Suggested Resources:
Below you will find our suggestions for resources to help make your Bow River or other Alberta fly fishing as successful as possible. You'll notice a lot of resources from Jim McLennan, Editor-at-Large for Fly Fisherman magazine.
Jim is one of the most knowledgeable and down-to-earth fly fishing experts you'll ever meet, and he's been passionately fishing Alberta's Bow River, Crowsnest River, and Oldman River (and their numerous tributaries) for a few decades now. We are grateful to consider him a personal friend and could not more highly recommend his writings and instruction.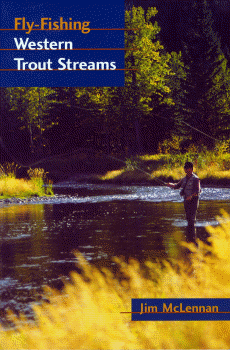 Hands-Down Number One Most Recommended Resource
No question about it, "Fly-Fishing Western Trout Streams" by Jim McLennan, published by Stackpole Books. This is, in our opinion, the best book in print for mastering the type of fishing we do in SW Alberta...but is immediately applicable for trout streams throughout western North America (and mighty helpful for any trout stream, anywhere!). I know that's embrasive language, but read it and we think you'll agree. One of our clients recently wrote us and said it was easily the best book on fly fishing he's ever read.
To learn more and read an excerpt
click here
. You will find this book on the shelves at many fly shops throughout the west or you may order it directly from Jim via his website.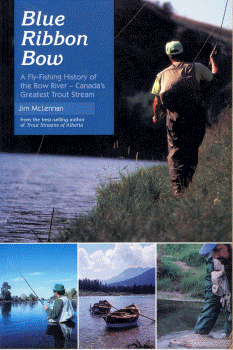 Another from the guy who "wrote the book" on fly fishing the Bow River...
If you're after an under-grad in Bow River techniques and information, we have to point you right back to Mr. McLennan and his book "The Blue Ribbon Bow" published by Johnson Gorman Publishers.
Jim began guiding on the Bow in the 1970's and has introduced the likes of Charles E. Brooks, Lefty Kreh, and a number of other popular writers to this world-class fishery. His articles on the Bow have appeared in several magazines including Fly Fisherman.
The book covers a diverse range of Bow River subjects including a history of the river, recommended equipment and techniques, and much, much more. The original edition won the Outdoor Writers of Canada Book of the Year Award, and has been completely revised and updated to reflect current Bow River realities.
Click here
to learn more and read an excerpt...and if you don't find this title at your local fly shop or bookstore be sure to contact Jim for the ultimate introduction to the Bow River.
Fly Fishing Instruction
McLennan Fly Fishing School:
We were pretty excited in 2005 to learn that Jim and Lynda McLennan were stepping back from other industry obligations and were forming the McLennan Fly Fishing School. They offer everything from one-on-one clinics to corporate and progressive fly fishing schools as well as women's schools, wilderness schools, and even one in our own backyard on the Crowsnest River.
Bow River Fishing Clinic:
Our own Maxwell Robinson has been gaining rapid fame for his success on the Bow, and especially for his abilities to help others get into fish consistently. Max is available for private and group instruction on fishing the Bow, covering the various techniques you'll want to apply and "difference-makers" for a successful outing. Contact Max directly for more info via
email
.
Fly fishing for Pike:
If you're like us, you've discovered that you can have a blast using fly fishing gear for species other than trout. While trout is indeed our specialty, Alberta has plenty of great fishing opportunities for Northern Pike as well, and there is no one we can think of to better direct you in all things Pike than Clive Schaupmeyer. Clive is well-known for his book, "The Essential Guide to Fly-Fishing" (
click here
for more info), but is also becoming a local guru for hunting these predators with the fly rod.
If you're interested in learning the basics along with lots of tips for equipment, flies and techniques, drop by Clive's Pike fishing pages
here
.